April Is The Cruellest Month, 2 Eclipses And Yellen Risk
15 April 2014 Total Lunar Eclipse
29 April 2014 Annular Solar Eclipse
Fact : Solar eclipses can only occur on new moons and lunar eclipses can only occur on full moons.
Eclipses are suppose to portend awakenings.
Bad news is that we will not get to see them both from our angle here at the Equator.
And April is the cruellest month, according to T.S. Eliot's Wasteland poem, a classic that is lost on bogans like me. In beautiful horrific prose, it doth forecast some impending doom in a melange of clashing themes.
My sensory perceptors are working over time since reading that a certain celebrity astrologer, Susan Miller, who almost never, ever has anything bad to say even in the most dire situations and always paints a bright picture in adversity, said that this month "so scary that I'm giving classes on it… Look, we have a perfect square on 15 April – 15 April! You've got Jupiter at 12, and Uranus at 13, and Pluto at 13, and Mars at 16 – but wait! It's going to get a little bit worse….Look at 29 April! ….Some people feel the stock market is…going to crash? … This is even worse – we've not had this since the American Revolution." http://www.theguardian.com/theobserver/2014/jan/18/susan-miller-astrologer-interview
Susan Miller versus Bank of America, who says that the S&P 500 has always been the strongest month of the year since 1950, averaging 2% returns.
Our world is far from unified, as much as we like to think that globalisation has done to improve our lives. It has only made Janet Yellen more powerful than any geopolitical risk out there !
Her speech last night must have sent shockwaves all the way to MH370, wherever it is, and must have sent the last bear to extinction. http://www.federalreserve.gov/newsevents/speech/yellen20140331a.htm
I call it the Yellen Risk which I think is bigger than the PBOC risk and the PBOC risk is bigger than the ECB risk. The rest of them – the RBA and gang are classed as the Impotent Risks which make them less of a risk than a large hedge fund.
The RBA does not have the clout nor standing to talk their currency in any direction anymore because there are bigger forces at play now. Look at the AUD reaction after their dovish statement today that specifically pointed out excessive currency strength.
Yellen wants wage hikes which is good for those employed but does that not make everything more expensive ? And the person who owns more things will get richer ?
And right now, 67 people command more wealth in this world than the bottom 3.5 billion people do. http://www.forbes.com/sites/forbesinsights/2014/03/25/the-67-people-as-wealthy-as-the-worlds-poorest-3-5-billion/?utm_campaign=forbestwittersf&utm_source=twitter&utm_medium=social
Clap, clap, clap.
Even among the rich, there is a class divide between the top 1% and the top 0.1% and top  0.01%. The top 0.5-1% is not doing so well. http://www.theatlantic.com/business/archive/2014/03/how-you-i-and-everyone-got-the-top-1-percent-all-wrong/359862/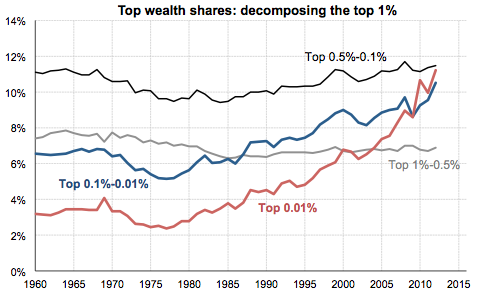 It was full time risk on in the month of March even as I got lost in all the noise in between.
Top Stock Markets
Argentina +10.19%
Brazil +7.05%
Colombia +11.02%
Italy +6.36%
Turkey +11.71%
(dunno why Cyprus is down 15%,  perhaps because of Russia ?)
UAE +6.68%
India +6.58%
Indonesia +5.43%
Pakistan +6.34%
Currencies
Pakistani Rupee +6.88%
Somali Shilling +4.52%
Colombian Peso +4.18%
Russian Ruble +4.13%
Turkish Lira +3.76%
Australian Dollar +3.70%
New Zealand Dollar +3.69%
Indian Rupee +3.59%
Bhutan Ngultrum +3.59%
Malawian Kwacha +3.41%
Top Commodities
Lean Hogs +12.55%
Wheat +9.54%
Ethanol +23.73%
Corn +7.12%
Nickel +7.94%
March lived up to its mad reputation of a fierce rally amidst the odds of geopolitical risks, slowing growth numbers and PBoC sending shockwaves on their move to free up the Chinese yuan. Corporate defaults failed to stall the optimism for EM trades and the mad rush for resources and blue chips that have been pursuing stock buy backs (check out the STI Index and DBS share price). Citibank was mooted to return money to stockholders until their stress test results were released.
There is nothing to suggest that April will be anything but an extension of the gaiety of March spring madness, in rallying markets mostly underpinned by expectations of stimulus from the PBoC, for the Fed to maintain a soft stance and an accomodative ECB for a sustained European recovery.
And in a market and world where we are living on the charity of global powers, we should play our part and do as we are told especially now that we know that stocks, interest rates and forex (EXCEPT GOLD) are all prone to manipulation.
Yellen speaks again on lunar eclipse day – 15 March. The FOMC starts on solar eclipse day – 29 March. So who says we should not watch out for those dates ?
Ps: I say, forget Clinton, Americans should go Yellen for President. Could pass a bill mandating every company to hire an employee for say, every 1 million in revenue or profits. Sounds fair to me.
Link to our Yellen fengshui piece – https://tradehaven.net/market/a-chinese-astrology-perspective-janet-yellen-is-on-tonight/