Who Shot The Taper ?
The ShutDown did. Anyone who mentions Taper now better crawl into a deep, dark and dank hole and hide.
Struck by a rare moment of perspicacity, I realise that the Taper is OFF and probably for a long time.
The markets have not reacted that way, going off all tangents and still hanging onto Hope. But the USD is dead. UST are the ironic safe haven again even if we are betting on a US downgrade and potential default although default would be unimaginable for surely, some priority system of payment would be designed.
In theory, we should return to the QE trades for now and forget the debt ceiling business because that is what they are hired to do and they will fix it somehow, eventually (because all shut downs come to an end) and we can be sure the longer the shut down, the more certain the Taper will not happen.
And the QE trades will be the usual suspects of Equities, Commodities and Bonds all in a happy bubblelicious rally.
What is different this time ?
It is coming at a fragile time. Before, it was only US and Greece. Now, the contagion has escalated and we are seeing political instability thrown in and governments all pursuing individual agendas as the beggar nations grasp for more inflows of easy money.
Psychologically, the market has changed. There is a loss of confidence in the system and a huge loss of respect for America as a world leader, I think.
The EM magical growth story is waning and there is nothing much to look forward to these days. Take a look at the GDP numbers between 2010 and 2012.
Brazil: 7.5% (2010) 0.9% (2012)
Russia: 4.5% (2010)  3.4% (2012)
India: 10.5% (2010) 3.2% (2012)
China: 10.4% (2010)  7.8% (2012)
Corporate scandals erupting and undercovered in rapid frequency to undermine our faiths. Developing and frontier economies are showing signs of political unrest. We had bombs in Kenyan malls followed closely by a Nigerian college massacre. Riots are still ongoing in Egypt who, along with Greece, decided to depose of their opposition parties.
The social mood has tipped into negative terrority which will determine the crowd behaviour going ahead. And, like the Elliot wave theory assumes, social moods are predictably cyclical.
This round should see the S&P correcting to the region of 1640 then 1580 even as Reuters reports that the 3rd quarter earnings warning ratio is the 2nd worst since 2001. http://mobilebeta.reuters.com/us-third-quarter-earnings-warning-ratio-is-2nd
Just look at this chart from Reuters and you may understand why there are people who do not want the debt ceiling to be raised anymore.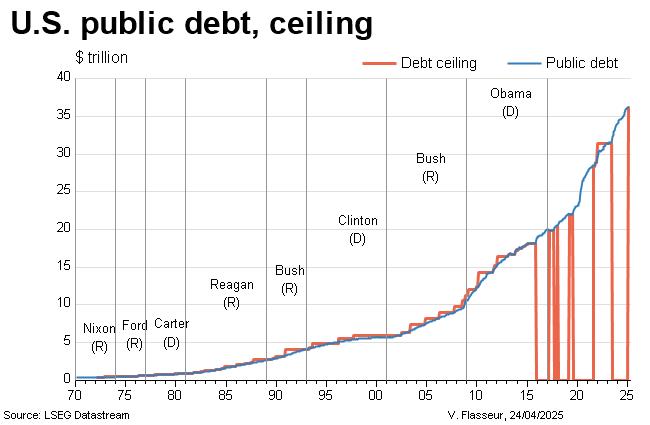 My question is So what if there is no Taper ? Will there be more QE ?